Alfried Krupp von Bohlen und Halbach
(August 13 1907 - July 30, 1967)
Alfried von Bohlen und Halbach, the eldest son of Gustav (1870 - 1950) and Bertha (1886 - 1957) Krupp von Bohlen und Halbach, attends grammar school before undergoing practical training in various workshops of Fried. Krupp AG. Having studied metallurgy at the technical universities of Munich, Berlin and Aachen, he graduates as "Diplomingenieur" in 1934 with a thesis on the melting of steel in a vacuum. After completing his training at Dresdner Bank in Berlin, he joins the family firm in 1936.
On October 1, 1938 he is appointed to the board of directors (executive board) of Fried. Krupp AG. As the designated successor to his father he is soon invited to join supervisory boards of other companies and industrial organizations. In early 1941, for instance, he is one of the founding fathers of the Imperial Coal Association and is made vice chairman of the Imperial Iron Association established in 1942. In March 1943 Alfried von Bohlen und Halbach is appointed chairman of the board of directors. On the conversion of Fried. Krupp AG into a sole proprietorship at the end of 1943 he becomes the exclusive owner of the company and also acquires the right to call himself Krupp von Bohlen und Halbach.
Alfried Krupp von Bohlen und Halbach takes over the company at a time when there is little room for independent business decisions - especially in the munitions industry. The state munitions authorities and an increasing number of semi-private control bodies regularly intervene in production planning. From a sense of duty and loyalty he endeavors to meet the demands placed on him, despite the increasingly difficult overall situation toward the end of the war.
At the start of the American occupation Alfried Krupp von Bohlen und Halbach is placed under automatic arrest on April 11, 1945. His property is confiscated and he is detained in custody until 1947 when together with eleven of his senior staff he is brought before an American military tribunal in one of the three Nuremberg industrial trials. He stands accused of the same crimes originally brought against his father Gustav Krupp von Bohlen und Halbach - crimes against peace and consequent conspiracy. On these charges all the accused are found not guilty. However, on the two other charges of plundering assets in occupied foreign countries and slave labor (crimes against humanity through the employment of foreign forced laborers and prisoners of war) Alfried Krupp von Bohlen und Halbach is sentenced to twelve years' imprisonment and all his property is confiscated. Sentences of up to twelve years are handed down to ten of those who stand trial with him. As part of a general amnesty the then high commissioner of the American zone of Germany, John J. McCloy grants the prisoners an early release in January 1951.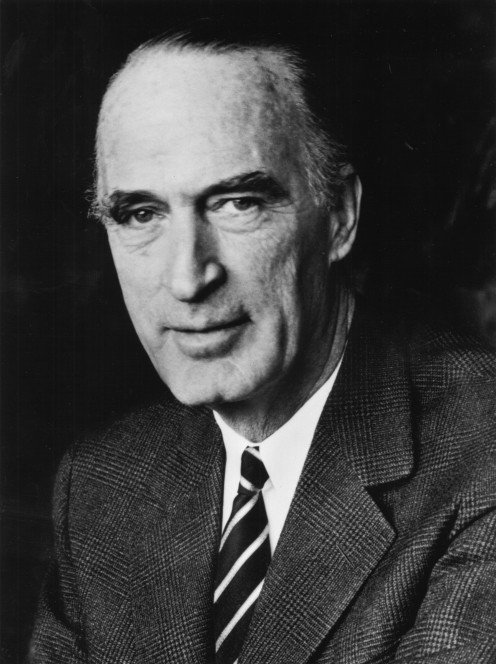 In 1953 Alfried Krupp von Bohlen und Halbach is back at the helm of the works, which initially remain under Allied control. Prior to this, as part of the Allied dismantling process, sequestration and divestment orders are placed on his iron and coal holdings. This means that the Group no longer has the raw materials and steel base it so greatly needs. The task now is to build a restructured Group from the remaining manufacturing operations, including the locomotive and motor vehicle factories, the WIDIA hardmetal factory and the Rheinhaus steel construction works. In addition, new sales regions are developed for the engineering and construction of industrial plant. Alfried Krupp von Bohlen und Halbach himself and Berthold Beitz (1913 - 2013), whom he appoints as his plenipotentiary in late 1953, personally contribute to this development on numerous foreign business trips. In 1958 the company, including the iron and coal assets which remain under a divestment order, employs 105,200 people. Krupp achieves higher sales than any other German company.
Since the divestment order can only be fulfilled to a very limited extent for lack of purchase offers, in 1960 Krupp combines the remaining iron and coal operations and strengthens this basis in 1965 by merger with the cast steel company Bochumer Verein für Gußstahlfabrikation AG. In 1961 Krupp opens a production line for drop forgings for engines and vehicles in Brazil. Through further acquisitions the company expands its processing business.
Alfried Krupp von Bohlen und Halbach does not enjoy a happy private life. In 1937 he marries Anneliese Lampert, née Bahr (1909 - 1998), and a year later their son Arndt von Bohlen und Halbach (1938 - 1986) is born. The marriage ends in divorce in 1941. In 1952 he marries Vera Knauer, née Hossenfeld (1909 - 1967). This marriage ends in divorce in 1957. Alfried Krupp von Bohlen und Halbach is a sailing enthusiast. At the 1936 Olympic Games he wins a bronze medal in the men's eight meter class. In his latter years he devotes his time to landscape photography and comparative music research. In 1966 he donates part of the Villa Hügel library to Bochum university. After his death his extensive record collection is donated to the Folkwang college of music.
In early 1967 Alfried Krupp von Bohlen und Halbach announces the conversion of his company into a stock corporation, the shares in which are to be held by a non-profit foundation. This is made possible when his son Arndt renounces his inheritance. Alfried Krupp von Bohlen und Halbach dies in July 1967. In accordance with his last will and testament, the non-profit Alfried Krupp von Bohlen und Halbach Foundation as his heir converts the company into Fried. Krupp GmbH, which is entered in the Commercial Register on January 2, 1968.