The founding families
Thyssen
August Thyssen (17. May 1842 - 4. April 1926)
August Thyssen is born on May 17, 1842 in the industrial and mining town of Eschweiler near Aachen as the third child and first son of a wealthy catholic family of entrepreneurs. For 15 years his father Friedrich (1804 - 1877) manages the first steel wire rolling mill in the Rhine province before founding a bank. The hard work, modesty and thrift of his parents make a strong impression on the growing son. Following church school in Eschweiler, August attends grammar school in Aachen before moving in 1859 to the polytechnic school in Karlsruhe for two years to study mechanical engineering and construction. In 1861 he attends the "Institut Supérieur du Commerce de l'État" higher commercial college in Antwerp before starting work at his father's bank.
For the period, August Thyssen has a good technical and commercial education when in 1867 he is first involved in founding a company (Thyssen, Fossoul & Co.) in Duisburg with his brother-in-law Bicheroux. After only four years in which he quadruples his capital investment, he leaves the company to go into business for himself. With his father as a partner, on April 1, 1871 he founds Thyssen & Co, an iron strip rolling mill in Styrum near Mülheim an der Ruhr.
After the death of his father in 1877, August's younger brother Joseph (1844 - 1915) joins the company as co-owner. This gives August Thyssen more time to pursue other business interests, initially in the Ruhr area, later in France and overseas.
In 1872 August Thyssen marries Hedwig Pelzer (1854 - 1940), the daughter of Mülheim businessman Johann Heinrich Pelzer. In the years that follow they have four children: Fritz (1873 - 1951), August (1874 - 1943), Heinrich (1875 - 1947) and Hedwig (1878 - 1960). The couple divorces in 1885; the children are brought up by their father.
From 1878 August Thyssen starts to get involved in processing the products manufactured by Thyssen & Co., including the fabrication of pipes for gas lines. In 1882 he starts rolling sheet at Styrum, for which two years later he sets up a galvanizing shop. The foundation stone for Maschinenfabrik Thyssen & Co. is laid in 1883 with the purchase of a neighboring mechanical engineering company.
In 1891 August Thyssen takes the first step toward creating a vertical company at the Gewerkschaft Deutscher Kaiser coal mine in [Duisburg-]Hamborn, which he expands to an integrated iron and steelmaking plant on the River Rhine. Just before the First World War he starts to expand his group internationally (Netherlands, UK, France, Russia, Mediterranean region, Argentina).
For August Thyssen, the end of the First World War brings not only the loss of his numerous foreign interests and his companies in Lorraine, but also an end to his company expansion. In 1925, already aged over 80, he still has sole control over his businesses and agrees in principle to his companies being transferred to a new group, Vereinigte Stahlwerke AG. On April 4,1926 August Thyssen dies at Schloss Landsberg near Essen. Unlike his sons Heinrich and Fritz, he has not collected any notable works of art apart from seven Rodin sculptures. Heinrich and Fritz share his industrial inheritance between them. A workaholic and an extremely creative businessman, August Thyssen perfects the concept of the vertically integrated corporation. For example, he sets up a mechanical engineering company in Mülheim an der Ruhr to build the large gas engines required for his own manufacturing operations. He becomes involved in steel processing, steel coating and shipbuilding for the same reasons. Without making any technical inventions himself, but always with an eye for innovations, he rises from a medium-size entrepreneur to one of the biggest German industrialists of the first quarter of the 20th century. Business profits are invested in the further expansion of his group. In addition to this maxim, August Thyssen also donates several million marks to a variety of charitable organizations (incl. August-Thyssen-Foundation's 'Franziskushaus' orphanage and old-age home in Mülheim an der Ruhr). However, even today little is known of his charitable work. One reason may be August Thyssen's avoidance of any kind of self-publicity. His politics are conservative and nationalistic. In business matters he is fundamentally opposed to cartels and syndicates, but still joins them if it suits his purpose without playing a leading part.
Fritz Thyssen (9. November 1873 - 8. Februar 1951), Amélie Thyssen (11. Dezember 1877 - 25. August 1965) und Anita Gräfin Zichy-Thyssen (13. Mai 1909 - 20. August 1990)
Fritz Thyssen is the eldest son of August Thyssen (1842 - 1926) and Hedwig Pelzer (1854 - 1940). After studying mining and metallurgy in London, Liège and Charlottenburg (Berlin), in 1897 he is appointed by his father to the mining board of the Deutscher Kaiser trade union. At the dawn of the new century Fritz Thyssen joins the supervisory boards of various group subsidiaries as his father's representative and is involved in the management of foreign subsidiaries. Up to the death of August Thyssen he develops technical improvements to the Thyssen iron and steel mill, in particular after the First World War he modernizes and rationalizes the ironworks. However, in his work he is still overshadowed by his father.
Against his father's wishes Fritz Thyssen marries Amélie Zurhelle, daughter of a factory owner from Mülheim am Rhein, in 1900. The couple's only child Anita is born in 1909.
Fritz Thyssen volunteers for service in the First World War, but is discharged in 1916/17 with a lung condition. During the Franco-Belgian occupation of the Ruhr in 1923, as spokesman for the affected mining companies he rejects the orders of the occupying power as illegal, is promptly arrested and together with other industrialists ordered to pay a fine by a French military court. "For his services to uphold German law during the Ruhr conflict" he is made an honorary doctor of law just a few weeks later by the University of Freiburg. Fritz Thyssen nevertheless seeks reconciliation with France; in the mid 1920s he participates in the Franco-German industrial negotiations on founding the international crude steel association. On the establishment of Vereinigte Stahlwerke AG, which unlike his brother Heinrich Thyssen-Bornemisza (1875 - 1947) he and his father approve, he is elected chairman of the supervisory board as representative of the biggest private shareholder (26%) in 1926. He has no ambition to become chairman of the executive board. He plays a leading role in associations and confederations (German iron and steel industry association, imperial association of German industry, central committee of the imperial bank, etc.). Fritz Thyssen is a conservative nationalist, but not a realist. Up to 1932 he is a member of the German National People's Party (Deutschnationale Volkspartei) and is among the followers of the corporative state ideas of the economist, philosopher and sociologist Othmar Spann. Sections of the NSDAP initially support the corporative state idea, and for this reason the party requests Fritz Thyssen to set up an "Institute for Corporatism" in Düsseldorf in 1933. Soon to fall foul of national socialist economic policies, the institute is closed in the summer of 1936.
At May 1, 1933 Fritz Thyssen joins the NSDAP, to which he has already donated financial support, the amount of which is generally overestimated. The denazification trials ordered by the Allies in 1948 found that Fritz Thyssen donated around 650,000 Reichsmarks to various right-wing and conservative national political parties and groups, including the NSDAP, between 1923 and 1932. At Hitler's behest he is made a member of the Reichstag and of the Prussian council of state. After 1934 (so-called Röhm-Putsch) Fritz Thyssen increasingly distances himself from the NSDAP and its objectives, but remains a member of the party and the Reichstag. His move away from NS thinking culminates in a clean break when he fails to attend the Reichstag assembly in Berlin to approve the German invasion of Poland on September 1, 1939, openly stating in a telegraph to Hermann Göring: "... I am against war. ..."
Fritz Thyssen flees with his family via Switzerland to France with a view to emigrating from there to Argentina, but his plans are frustrated by the German invasion of France. During this time the so-called autobiography, published under the title "I paid Hitler" in New York in 1941, is written. The publisher is the journalist Emery Reves, an American of Hungarian descent. The text is based on dictations, only the first nine chapters of which were edited by Fritz Thyssen himself. The rest, the most frequently quoted section, has been imaginatively embellished by the publisher, and is of limited value as a source of reference on Thyssen's actual movements and his role up to 1939. The very title of the book is misleading and for this reason Thyssen always contested its authenticity. The board of arbitration in the denazification trial agreed with him. Fritz Thyssen and his wife Amélie are among the first Germans to be delivered to the national socialists by the Vichy government at the end of 1940. Their assets are confiscated by the state. After spending two years confined in the secure section of a sanatorium near Berlin, they are both incarcerated first of all in the concentration camp in Sachsenhausen, in February 1945 in Buchenwald and finally in Dachau. Together with other prominent prisoners of the regime they are released by German and US soldiers as they make their way through the Alps. Fritz Thyssen is again arrested - this time as a supporter of the NSDAP - and finally has to submit to just one denazification trial. He is indicted for "minor crimes". As a punishment 15% of his German assets are to be confiscated. An arrangement is reached: In return for the quashing of the confiscation of his assets, Thyssen pays court costs of DM500,000. A free man, he emigrates with his wife in January 1950 - ten years later than originally planned. They join their daughter Anita who lives near Buenos Aires and has been married to the Hungarian Count Gabor Zichy (1910 - 1972) since 1936. The union produces two sons Federico (b. 1937) and Claudio (b. 1942) Zichy-Thyssen.
Fritz Thyssen dies of a heart attack on February 8, 1951 in Argentina. Together with his father and brother Heinrich he is buried in the family vault at Schloss Landsberg near Essen. His wife Amélie and daughter Anita are also buried there.
Heinrich Thyssen-Bornemisza (October 31, 1875 - June 26, 1947)
The youngest son of August Thyssen (1842 - 1926) and Hedwig Pelzer (1854 - 1940) studies chemistry, physics and mineralogy in Munich, Berlin, Bonn and Heidelberg, where he gains a doctorate in chemistry in 1900.
After his marriage to the Hungarian baroness Margareta Bornemisza (1887 - 1971), he is adopted by his father-in-law who has no male heirs. In 1907 Franz Joseph I, Emperor of Austria and King of Hungary, bestows on Heinrich Thyssen and his descendants the right to adopt the name and coat of arms of Bornemisza de Kászon and bear the title of baron. Heinrich Thyssen-Bornemisza keeps his Hungarian citizenship up to his death in 1947, but in the 1920s and 1930s he intermittently acts as a German national. The marriage produces four children, one of them Hans Heinrich (1921 - 2002).
After the First World War, Heinrich Thyssen-Bornemisza flees Austria and moves with his family to The Hague, where he becomes head of Thyssen's foreign interests, the most important one of which is now the Bank voor Handel en Scheepvaart. Heinrich Thyssen-Bornemisza avoids business dependencies, which is why after the death of his father in 1926 he refuses to invest his inheritance in the newly created trust Vereinigte Stahlwerke AG. As a result August Thyssen's industrial assets are divided between his sons Fritz and Heinrich. Heinrich Thyssen-Bornemisza inherits the assets which are not to be transferred to Vereinigte Stahlwerke AG, in particular the Dutch banking, trading and transport companies together with some German enterprises (August Thyssen-Bank AG, Preß- und Walzwerk AG, Thyssensche Gas- und Wasserwerke GmbH and others) which he initially groups together in the company August Thyssen'sche Unternehmung des In- und Auslandes GmbH. Most of the firms are later combined in an independent corporate group Thyssen-Bornemisza, which over the following decades develops into a largely international holding company for a number of diversified industrial and service activities.
Successful but deliberately anonymous as a businessman, Heinrich Thyssen-Bornemisza gains international recognition as an art collector and connoisseur. In the 1920s Heinrich Thyssen-Bornemisza puts together an impressive collection of European paintings from the 14th to the early 19th century of the highest quality. In 1932 he buys and moves into the Villa Favorita in Castagnola-Lugano, where he installs a spacious gallery to house his art collection. After his death in 1947 his son Hans Heinrich Thyssen-Bornemisza opens the gallery to the public.
Krupp
Friedrich Krupp (July 17, 1787 - October 8, 1826), Therese Krupp (August 28, 1790 - August 3, 1850)
The first records of the Krupp family in Essen date back to 1587. Members of the family generally pursue careers in commerce and local government. Friedrich Krupp, whose father died in 1795, only attends grammar school up to the age of 14 before serving a commercial apprenticeship - partly in the grocery store run very successfully by his business-minded grandmother Helene Amalie Krupp (1732 - 1810). From 1805 he acquires a basic knowledge of metallurgy in the "Gute Hoffnung" iron mill owned by his grandmother. In mid-1807 she transfers ownership of this mill to him, but reverses this decision a year later because of his lack of success. In 1808 Friedrich Krupp marries Therese Wilhelmi, daughter of the Essen merchant Johann Wilhelmi. Over the next few years four children are born: Ida (1809 - 1882), Alfred (1812 - 1887), Hermann (1814 - 1879) and Friedrich (1820 - 1901). From 1808 Krupp, together with co-owners, runs a store selling Dutch produce and after the death of his grandmother in 1810 takes over her grocery store. However, soon afterwards he abandons these stores to concentrate on cast steel production.
On November 20, 1811, during Napoleon's Continental Blockade of Britain, Friedrich Krupp establishes a factory with two partners for the making of English cast steel and all products thereof. From 1816 he runs the operation on his own and develops a process for the manufacture of high-quality crucible steel which he sells in the form of bars, rods, tanner's tools, coining dies and unfinished rolls. The quality of his cast steel is confirmed by the Düsseldorf mint in 1817. However, Friedrich Krupp is unable to build on this initial success and secure the firm's long-term profitability. The building of a new factory eats into the firm's capital so that he is unable to satisfy demand for products in the required quality. Friedrich Krupp is very committed to the city and plays an active role in local government. In the final years of his life his work is affected by ill health. When Friedrich Krupp dies in 1826, crucible steel production has almost come to a standstill. With the support of her oldest son Alfred and other relatives, Friedrich's widow Therese continues the company of which she remains the proprietor until 1848.
Alfred Krupp (26. April 1812 - 14. Juli 1887)
Alfred Krupp, the second child and oldest son of Friedrich (1787 - 1826) and Therese (1790 - 1850) Krupp, is forced to leave grammar school and abandon his plans to serve an apprenticeship in the Düsseldorf mint when his father becomes seriously ill. He joins the firm and supports his mother who takes over the management of the company after the death of her husband in 1826. First his sister and later his brothers also join the firm, which now produces cast steel, tanner's tools, coin dies and rolls.
In 1848 Alfred Krupp becomes the sole proprietor of the company which from 1850 experiences its first major growth surge. In 1849 his equally talented brother Hermann (1814 - 1879) takes over the hardware factory Metallwarenfabrik in Berndorf near Vienna, which Krupp had established together with Alexander Schöller six years earlier. The factory manufactures cutlery in a rolling process developed by the brothers. The youngest brother Friedrich also ceases to work for the company.
Krupp's main products are machinery and machine components made of high-quality cast steel, especially equipment for the railroads, most notably the seamless wheel tire, and from 1859 to an increased extent artillery. To secure raw materials and feedstock for his production, Krupp acquires ore deposits, coal mines and iron works. On Alfred Krupp's death in 1887 the company employs 20,200 people. His great business success is based on the quality of the products, systematic measures to secure sales, the use of new cost-effective steel-making techniques, good organization within the company, and the cultivation of a loyal and highly qualified workforce among other things through an extensive company welfare system.
In 1853 Alfred Krupp marries the much younger Bertha Eichhoff (1831 - 1888), daughter of August Eichhoff, a retired Rhine customs inspector from Cologne. In 1854 their only son Friedrich Alfred is born.
Throughout his life Alfred Krupp devotes himself to the company and to ensuring its continued long-term survival. He establishes principles which will be upheld at Krupp, specifying that earnings must be ploughed back into the company and the company must be passed down to a single heir only. A rather unassuming person in his private life, he is quick to publicly promote the company, its products and also its welfare schemes as a means of advertising. Krupp declines invitations to join political bodies and associations in the same way as he refuses a title of nobility. In his private life he loves the theater, music and small gatherings of his closest friends and relations. But at the same time by building Villa Hügel (1870 - 1873) he creates a worthy representational setting for receiving business visitors. In his old age he withdraws to Villa Hügel, but even then he frequently intervenes - mostly in writing - in the company's business affairs.
Friedrich Alfred Krupp (February 17, 1854 - November 22, 1902), Margarethe Krupp (March 15, 1854 - February 24, 1931)
Friedrich Alfred Krupp, the only son of Alfred (1812 - 1887) and Bertha (1831 - 1888) Krupp, a sickly child, is initially taught by private tutors before attending the Burggymnasium grammar school in Essen for two years. Friedrich Alfred Krupp has a keen personal interest in metallurgy and would have liked to study at a technical university. In line with the wishes of his father, however, he joins the firm in 1875, at the age of 21. He is not assigned any definite duties, but instead increasingly assumes a mediating role between his father, who lives an isolated existence in Villa Hügel, and the company's directors. As a result he gains an insight into the entire company and develops tactical negotiating skills. In 1882 he is given powers of attorney and in the same year his father allows him to study at Braunschweig technical university at least for a few months. At his instigation the company sets up a second scientifically oriented chemical laboratory in 1883 which is placed under the management of a lecturer from Braunschweig.
In 1882 Friedrich Alfred Krupp marries Margarethe von Ende, the daughter of the Prussian baron August Freiherr von Ende. She is the fourth of ten children and the eldest daughter. Entrusted with domestic duties from an early age, she attends a girls' secondary school for just two years. Against the wishes of her mother she attends a teaching seminary and takes up work as a governess first in England and then at the court of Saxony-Anhalt in Dessau. Friedrich Alfred Krupp first makes her acquaintance in 1872 when she accompanies her father on a visit to Essen. His own father, Alfred Krupp, initially opposes his son's marriage to a member of the aristocracy, but ultimately relents. Daughters Bertha and Barbara are born in 1886 and 1887.
After the death of his father in 1887, Friedrich Alfred Krupp continues the expansion of the company into a horizontally and vertically integrated Group. To this end the Grusonwerk plant in Magdeburg is incorporated in 1892/94 and the Kiel-based shipbuilding company Schiff- und Maschinenbau AG Germania is purchased in 1896/1902. In 1897 the Group's iron and steel basis is strengthened by the inclusion of the integrated iron and steel mill in Rheinhausen. Friedrich Alfred Krupp expands the range of products to include armored plate, ships, submarines and diesel engines. From 1887 to 1902 the number of employees increases from 20,200 to 43,000.
Friedrich Alfred Krupp has a particular interest in steel production. He introduces scientific steel research at Krupp, thereby paving the way for the successful continued development of stainless steel production. Throughout the Group, including in the newly acquired works, he generously expands the company welfare scheme.
Like his father, Friedrich Alfred Krupp declines a title of nobility. In his political activities, his temporary membership of the Reichstag, and his support of the imperial fleet policy, especially the fleet association, he does not enjoy great success. On the other hand, the results of his research in collaboration with the Naples zoological station into deep sea flora and fauna win him academic recognition.
After Friedrich Alfred Krupp's early and unexpected death, the company is converted into a stock corporation, the shares in which are mostly held by his elder daughter and heiress Bertha Krupp. The company's management is now in the hands of the directors and supervisory board. As Bertha Krupp is still a minor, her mother, Margarethe Krupp, exercises her rights as proprietor until she reaches the age of majority and marries. Margarethe thus becomes head of the company, a task she fulfils with skill and success. She is also involved in the planning and building of the Margarethenhöhe housing estate, which, like the other company benefit schemes, becomes a major lifetime commitment.
Gustav Krupp von Bohlen und Halbach (August 7, 1870 - January 16, 1950), Bertha Krupp von Bohlen und Halbach (March 29, 1886 - September 21, 1957)
Gustav von Bohlen und Halbach, the fifth son of seven children of Gustav (1831 - 1890) and Sophie (1837 - 1915) von Bohlen und Halbach, attends grammar school in Karlsruhe before studying law and politics. After gaining his doctorate in 1893 he joins the Baden civil service, moving to the Foreign Office in Berlin in 1897. In 1899 he is appointed diplomatic secretary to the embassy first in Washington and then in Peking. In 1904 he is summoned to the Prussian legation in the Vatican and it is in Rome that he first meets Bertha Krupp.
Bertha Krupp, the elder daughter of Friedrich Alfred Krupp (1854 - 1902) and Margarethe Krupp (1854 - 1931), initially receives private tuition together with her sister Barbara (1887 - 1972) at Villa Hügel. The sisters then attend a housekeeping school for young ladies in Baden-Baden. After the death of her father in 1902 Bertha Krupp becomes the owner of the company, which from 1903 becomes a stock corporation but continues to be family-owned. Since Bertha Krupp is still a minor, her mother, Margarethe Krupp, exercises her rights as owner. In 1906 Bertha Krupp marries the counselor of legation Gustav von Bohlen und Halbach, who is granted the right by royal Prussian decree to bear the name Krupp as a prefix to his own family surname. The couple have six sons and two daughters: Alfried (1907 - 1967), Arnold (1908 - 1909), Claus (1910 - 1940), Irmgard (1912 -1 998), Berthold (1913 - 1987), Harald (1916 - 1983), Waldtraut (1920 - 2005) and Eckbert (1922 - 1945).
Gustav Krupp von Bohlen und Halbach is appointed to the supervisory board of Fried. Krupp AG at the end of 1906 and acts as its chairman from 1909 to the end of 1943. In this period the economic development and product range of the Krupp Group are greatly influenced by the general political events: the expansion of the munitions business in World War I, the change in production as a result of the Treaty of Versailles, the financial crisis of the company in 1924/25 and its involvement in the national socialist autarchy and armaments policy with a further change of production. Major new products in this period are the stainless acid-resistant steels developed at Krupp (NIROSTA, V2A), the WIDIA engineering materials used in particular for tools, as well as locomotives and motor vehicles. The number of employees in the Group fluctuates strongly: between 168,000 at the end of World War I, 30,300 in the Great Depression in 1932 and 243,300 in 1943.
Gustav and Bertha Krupp von Bohlen und Halbach are deeply committed to the social tradition of the company. The company benefits, in particular the building of workers' housing estates, are continued. A foundation is set up for domestic health care. Convalescent homes are available for sick employees and their families, as well as a dental clinic. After the early death of their second son, the Arnoldhaus maternity clinic is founded. The tradition of Krupp family members paying visits to long-standing employees on special occasions, e.g. golden weddings, is continued.
Gustav Krupp von Bohlen und Halbach makes an impact beyond the bounds of the company - thanks no doubt in part to his former diplomatic activities. In 1921 he is appointed Prussian state councilor, in 1924 president of the supervisory board of the Bank für Deutsche Industrieobligationen - a bank established to handle the reparations - and from 1934 onwards he serves on the management board of the imperial rail company Reichsbahngesellschaft. From the establishment of the scientific institute Kaiser-Wilhelm-Gesellschaft zur Förderung der Wissenschaften (today Max-Planck-Gesellschaft) he is closely involved in its development, first as its senator and then as first vice president. Together with his wife he fosters the work of the German museum of natural science and technology in Munich. In 1931 he becomes president of the imperial association of German industry and in 1933 reorganizes it according to new principles of leadership. In 1934 he resigns from this office. Gustav Krupp von Bohlen und Halbach did not actively support Hitler or the NSDAP before 1933. However, when Hitler is elected chancellor he speaks out in favor of the existing state, out of a sense of loyalty to his country. Gustav Krupp von Bohlen und Halbach only becomes a member of the NSDAP in 1940 when Adolf Hitler presents him with the golden badge of honor of the NSDAP on his 70th birthday.
At the end of 1943 Gustav Krupp von Bohlen und Halbach resigns as chairman of the supervisory board of Fried. Krupp AG. His oldest son Alfried becomes sole owner when the company is converted into a sole proprietorship. In 1945 Gustav Krupp von Bohlen und Halbach stands trial before the international court of law in Nuremberg in the trial against major war criminals. However, following a car accident in December 1944 and several strokes he is no longer fit to stand trial. For many years Bertha Krupp von Bohlen und Halbach - together with a nurse - takes care of her invalid husband in a small building next to the Blünbach residence where they lived from the summer of 1944 and which has been confiscated by the Allies. After the death of her husband in 1950 Bertha Krupp von Bohlen und Halbach returns to Essen to witness the resurgence of the company. Although Villa Hügel is no longer the family home, after the departure of the Allies it once again becomes a representative meeting place for the company, where Alfried and Bertha Krupp von Bohlen und Halbach receive guests from all over the world.
Alfried Krupp von Bohlen und Halbach (13. August 1907 - 30. July 1967)
Alfried von Bohlen und Halbach is born on August 13, 1907, the eldest of eight children of Bertha and Gustav Krupp von Bohlen und Halbach. He takes his school graduation in Essen and then begins to study metallurgy, graduating in 1934 with a degree in engineering from RWTH Aachen University. After an internship at the Dresdner Bank in Berlin, he joined the family business in October 1936 and was appointed to the board of directors two years later. As his father's designated successor, he was soon called upon to serve on the supervisory boards of foreign companies and in business organizations. For example, he is deputy chairman of the Reich Association of Iron, founded in 1942. In 1943 he takes over management of the company, becomes sole owner of the firm and at the same time is granted the right to call himself Krupp von Bohlen und Halbach.
Shortly before the end of World War II, on April 11, 1945, Alfried Krupp von Bohlen und Halbach is arrested by American troops. Three years later an American military tribunal in Nuremberg sentences him to twelve years in prison and confiscation of all his assets. After he is pardoned in 1951 and the confiscation of the Krupp assets is lifted, he returns to the helm of his company in 1953. In November of the same year he appoints Berthold Beitz (1913 - 2013) as his personal chief representative. The task at hand is to rebuild the company, whose substance is endangered by war damage, dismantling and the reorganization of the coal and steel industry planned by the Allies. This is achieved within a few years by setting new production focuses and successfully returning to international markets. At the end of the 1950s Krupp is one of the top-selling companies in the Federal Republic of Germany.
In spring 1967 Alfried Krupp von Bohlen und Halbach announces the forthcoming conversion of the company into a limited liability company (GmbH), the shares in which are to be held by a charitable foundation. This is made possible by the renunciation of the inheritance by his son Arndt.
He dies on July 30, 1967.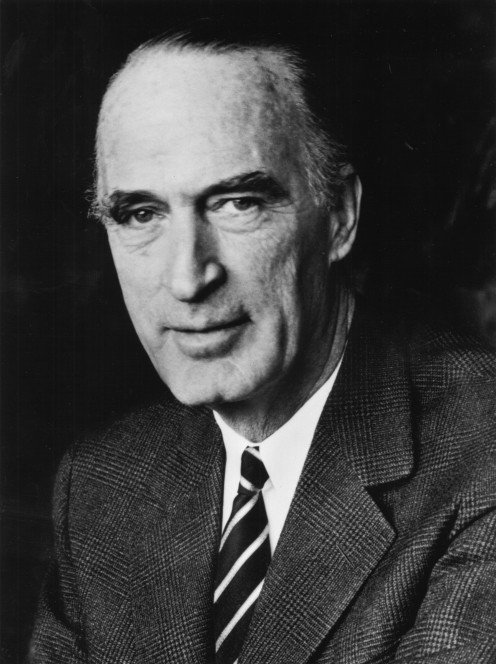 Privately he has not led a very happy life. In 1937 he married Annelise Lampert, née Bahr (1909 - 1998). In the following year his son Arndt von Bohlen und Halbach (1938 - 1986) was born. The marriage is divorced in 1941. In 1952 he enters into a second marriage, with Vera Knauer, née Hossenfeld (1909 - 1967). This marriage is divorced in 1957.
Alfried Krupp von Bohlen und Halbach is a passionate sailor and photographer. At the 1936 Olympic Games he celebrates his greatest sporting success with his sailing yacht "Germania III" as bronze medal winner. As a photographer, he traveled the world and left behind a collection of photographs, which today is kept in the Krupp Historical Archive. After his death his record collection is donated to the Folkwang University of the Arts.